Welcome to FsMovMap
FsMovMap is an easy to use moving map for Microsoft Flight Simulator X (FSX) on Android devices.
News:
16.06.2017 - Version for Prepar3D v4 available now!
A version of FsMovMapServer for Prepar3D v4 is available now. You will find it in the Downloads section.
13.04.2015 - Screenshot of version 2.1
FsMovMap2.1 is in the works. New features will include custom airplane icons and the possibility to record your flight and display it live on your device or afterwards in Google Earth.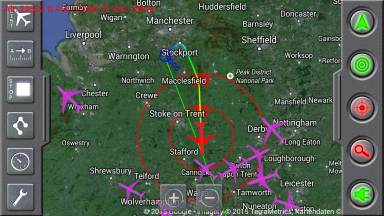 09.03.2015 - New unified Server
A new Server (2.03) has beend released. It is now a unified server for all versions of FSX (including STEAM) and P3D.
16.01.2015 - New Server for updated FSX on Steam released
In the "Downloads"-Section you'll find a new version of the Server for the updated FSX on Steam (10.0.62608.0). I highly recommend to disable automatic updates of FSX on Steam so you could update only if you need to.
13.01.2015 - New Version of FSX on Steam
Happy new year everybody! The FSX version on Steam got updated so the Server won't run anymore. I will update it as soon as possible, but it might take some days. Until then I highly recommend to NOT update FSX.
20.12.2014 - Server for Steam-Edition released
The Server for FSX Steam-Edition is released. You'll find it in the Downloads section.
19.12.2014 - Installer for Steam-Edition soon
A new version of FsMovMapServer2 for the FSX Steam-Edition is currently in the works. Check back soon!
01.04.2014 - New Installer
The installer of FsMovMap2Server has been modified to improve support for Prepar3D.
29.03.2014 - FsMovMap2 Pro available!
FsMovMap2 Pro is now available in the Play Store!
Enjoy more features and an ad free flight experience.
27.03.2014 - FsMovMap2 Free available!
FsMovMap2 Free is now available in the Play Store!
FsMovMap2 Pro is following the coming days...
02.03.2014 - FsMovMap 2.0 Screenshot
Busy airspace above BeNeLux. The pink airplanes are AI-airplanes. Orange symbols show airports, green symbols ILS-equipped airports.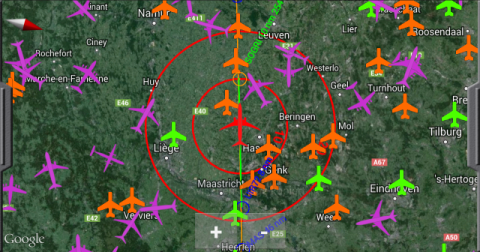 24.11.2013 - FsMovMap 2.0 in the works!
It's been quite some time since the last update. But, hey, a new version is in the works! Faster, better, more options etc... stay tuned!
27.12.2011 - FsMovMapServer v1.06 available!
I really whish I could spend more time with the App development!
But a new version of the server is finally there! It fixes some more bugs and should handle flightplans better.
23.05.2011 - FsMovMapServer v1.03a BETA available!
Not much new as of now (but a major update could be expected soon ;-) , just some bugfixes. You don't have to install it, if the old beta was working correctly.
29.04.2011 - FsMovMapServer v1.03 BETA available!
Changes:
- Added possibility to import PMDG and Level-D flightplans (in .rte format)
- some bugfixes
Please uninstall any previous versions before you install the beta. If you find any bugs or errors, please report them in the forum. Thank you!
24.04.2011 - First release available!
The app is now ready for download in the Android Market!
20.04.2011 - Testing is closed now
A big THANK YOU for everyone participating. Stay tuned for the first release....