Welcome to FsMovMap
FsMovMap is an easy to use moving map for Microsoft Flight Simulator X (FSX) on Android devices.
News:
02.03.2014 - FsMovMap 2.0 Screenshot
Busy airspace above BeNeLux. The pink airplanes are AI-airplanes. Orange symbols ahow airports, green symbols ILS-equipped airports.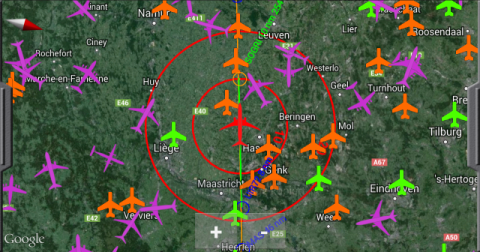 24.11.2013 - FsMovMap 2.0 in the works!
It's been quite some time since the last update. But, hey, a new version is in the works! Faster, better, more options etc... stay tuned!
27.12.2011 - FsMovMapServer v1.06 available!
I really whish I could spend more time with the App development!
But a new version of the server is finally there! It fixes some more bugs and should handle flightplans better.
23.05.2011 - FsMovMapServer v1.03a BETA available!
Not much new as of now (but a major update could be expected soon ;-) , just some bugfixes. You don't have to install it, if the old beta was working correctly.
29.04.2011 - FsMovMapServer v1.03 BETA available!
Changes:
- Added possibility to import PMDG and Level-D flightplans (in .rte format)
- some bugfixes
Please uninstall any previous versions before you install the beta. If you find any bugs or errors, please report them in the forum. Thank you!
24.04.2011 - First release available!
The app is now ready for download in the Android Market!
20.04.2011 - Testing is closed now
A big THANK YOU for everyone participating. Stay tuned for the first release....